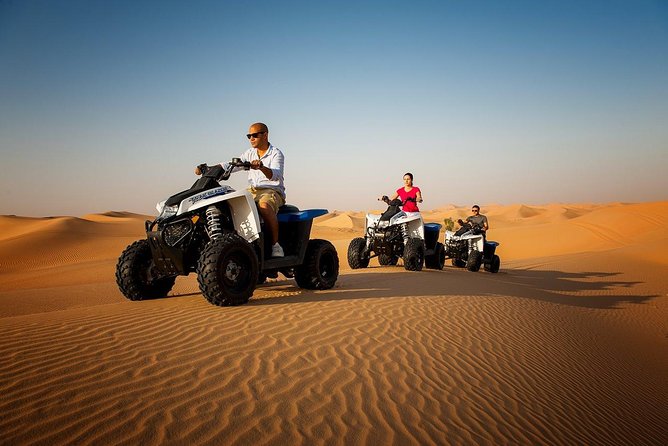 Top 5 Reasons for Desert Safari in Abu Dhabi
UAE's capital city Abu Dhabi is a man-made splendour. Along with the Saadiyat Island, it impresses its myriad and countless tourist with its amazing sunrises and sunsets, incredible expanses of desert, rich art and culture, remarkable nature, iconic attractions, laidback island life, sky-kissing skyscrapers, modern towers, wonderful beaches, palatial hotels, shopping mega centres, delicious food and much more.
Comprising almost 80% of the country, this safest city in the world, offers plenty of opportunities to the visitors to have fun, learn and interact. You can tour top-of-the-world museums, watch the hunting falcons in the desert or be impressed by the shifting sand dunes and cool oasis. The city has something for every traveller.
Out of the many outdoor activities you can cherish camping in AI Wathba Lake Camp, sand boarding and skiing, dune bashing, wild life safari and Arabian Nights Village. Indeed, desert safari is one astonishing experience you can have. You can take it early in the morning, in the afternoon or evening and overnight. It is a perfect combination of mystery and wonder. You can marvel at the crisscrossing of the shimmering golden sands and brilliant sunrises and sunsets. You can take a private tour for optimum satisfaction.
Why Should You Take Desert Safari in Abu Dhabi?
The top 5 reasons for desert safari in Abu Dhabi are:
Unleash your creativity and photography. Under the hot sun it turns red. It looks beautiful at night.
Go for dune-bashing, camel or horse riding, quad biking or sand sliding.
At night visit the Bedouin camp for entertainment and dinner. Be enthralled by the theatrical and colourful belly dancing and Tanoura.
Greet UAE's national bird, the falcon. UNESCO lists falconry as the intangible cultural heritage of humanity since 2016. It is a traditional sport and high art form in UAE.
Savour barbequed meat, and the Arabian coffee, sweets and shisha.
Where Can You opt for Desert Safari?
The top places where you can go for desert safari in Abu Dhabi are:
Rub Al Khali (Empty Quarter), Al Dhafra is the world's largest expanse of ceaseless sand mass. It is the perfect dramatic setting for everyone. The sheer size and wide stretches of sand will keep you entertained. Be mesmerised by its far-flung date palm plantations in Liwa oasis.
Enjoy the quintessential Bedouin lifestyle at Arabian Nights Village and Al Badeyah desert camp in another spectacular patch of sand dunes at Al Khaznah. It has long sand valleys with several adventure sports like dune bashing and quad biking.
Popular Choices
You can pick any one of the following:
With the cool temperatures of the early morning, you can certainly find the golden sands appealing. The rising sun casts wonderful shadows on the desert.
In the evening safari you can witness breath-taking views of the setting sun and camp under the starry night sky.
You can also choose the overnight safari. Sleep in the tent and let the pure serenity of the desert at night capture you.
You can also pick a 5-6 hours safari. It includes desert driving, round trip, activities like quad biking, henna tattooing, refreshment and much more.
Tips for A Nice Travel
Follow these tricks to have a satisfying experience:
Encourage your children to use all their senses to feel the desert safari.
Wear casual, loose fitting and long-sleeved cotton clothes for better protection.
Don't forget to wear your sunglasses.
Wear a wide brimmed hat or a baseball cap.
Apply high SPF sunscreen before you set off.
Carry adequate snacks and water with you.
You can use a light jacket or a stole in night safari as the temperature dips after sundown.
Wear open shoes, sandals or flip-flops for moving on the sand.
Listen carefully the advice of the instructors for adventures.
Conclusion
Thus, desert safari in Abu Dhabi can be a memorable and commendable lifetime experience. Be it for honeymoon, group or solo travel or family vacation, it definitely suits all. Hence, you shouldn't forget to keep Abu Dhabi desert safari in your bucket list. You can plan your trip according to your budget and time constraint, and still gain a wholesome exposure. You can contact popular and authentic tour operators for a smooth, fuss-free and cost-effective trip. You can pre-book and avail attractive discounts, offers and amazing services. You should also note down the precautions while going on a desert safari.