Amman Roman Theater
CAIRO, ROME, AND BEIJING ARE all cities where ancient monuments and ruins punctuate rows of modern storefronts and streets humming with cars and mopeds. While lesser-known, Amman is also such a city.
Here in the Jordanian capital, the 6,000 seats of a 2nd-century Roman amphitheater stand testament to the significance of what was then known as Philadelphia, or "the city of brotherly love." Commissioned by Roman Emperor Antoninus Pius, this northward-facing landmark is divided into three distinct sections from which ancient spectators watched plays and modern ones listen to concerts.
Amman's iconic amphitheater is, in fact, a perfect place to attend such events (discounting the steep and sometimes slippery stairs), because the Romans were masters of acoustics. There is a small marking between the stage and the seats, and if you stand on this spot and speak, your voice projects to the entire stadium.
The superior sound is not the only hidden gem this archaeological wonder contains, however. On the side of the stage, a small door opens to the Jordan Museum of Popular Traditions, in which dozens of ceramics, traditional Bedouin clothing, jewelry, and trinkets sit on display. Behind the theater, the remains of the Temple of Hercules sits on a hill, heralding the bright Jordanian sun.
Suggested Tours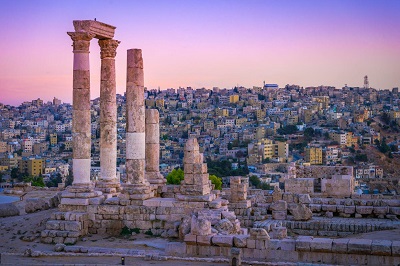 Half Day Amman City Tour
Are you looking for Amman Sightseeing Tour? Enjoy this Amman City Tour and spend the day touring Amman city, the oldest continuously inhabited city in the world. Half-day o